WHAT ministry/work partnership opportunities exist in Colombia?
Construction projects – in churches, social projects
Add a fourth floor to CEIP elementary school in Medellin, the Santo Domingo church in Medelin needs a roof and a floor and room divisions, the La Ye church needs a floor, the Casa de Paz Boys ministry soccer field needs a fence installed, the Nissi San Carlos Church needs a children's center/meeting area.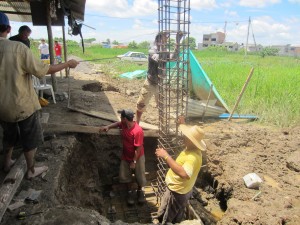 Pastoral family dwelling construction and remodeling
In partnership with the Colombian Covenant ministerium, help to provide a permanent place to live for a pastor and his or her family depending on their need.
English Intensives – ECHO — English Can Help Others
One week English conversation intensives, working with elementary children and teachers. A suggested curriculum and format for the week-long intensive will be provided by the Colombia Covenant Mission.
English Intensives for young professionals in their English Conversation
Outreach to young professionals and university students, using English conversation to build relationships and help them improve their English. Options include: day-long intensives, weekend retreat, or during week-day evenings.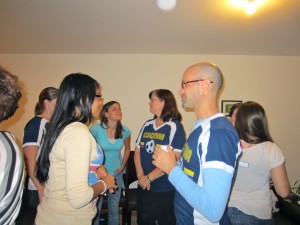 Lead some intensive classes (Youth Leadership training, arts in worship, Bible study methods, etc) for the youth leadership program.
Themes and teaching materials to be coordinated with the Colombia youth. Possible themes include: healthy relationships, identity, the role and responsibilities of a leader, spiritual formation.
Health Brigades (eyes, dental, general checkup, community health training)
Serve alongside the local church in coordination with the Colombia Covenant Mission to provide day-long health brigades focusing on vision, dental, general checkup or community health education.
Counseling, advocacy, lay-counseling training in domestic – marriage – life issues
Providing training workshops for Colombian leaders in specific areas of need related to life issues.
Teaching in ministry topics, theology classes, practical pastoral experience
Enhancing the Covenant theological leadership training institute through specific workshops and seminars. Possible themes include: church history, ethics, theology, church planting, community focused ministry, etc.
Consultation and training for Elderly care and nurture
Accompany the Covenant in helping leaders to think through how to establish an elderly care and nurture ministry. This is an emerging need in the Covenant in Colombia.
Small business and micro business consultation
Workshops, seminars, forums that seek to help the churches and ministries establish small businesses that can help sustain their ministries.
Men's outreach initiatives
Work with the local Covenant churches to establish strategies to reach the men in their communities and encourage them to be the husbands, fathers and home leaders that God has called them to be. 

Women's outreach
Serving alongside the women's ministries in local churches to find ways to reach out to the younger generation of women, young mothers, single mothers, etc.